Tension in UP district stops after mosque construction stops
Sambhal (Uttar Pradesh). Tensions erupted in the area over the alleged construction of a mosque illegally erected in Sambhal district overnight. Police have been deployed in the area. Work on the mosque was stopped in Sarai Taryn area on Wednesday night on protest from other community people. The roof of the mosque was already constructed when police locked the building. Prevented the gathering of people for prayer.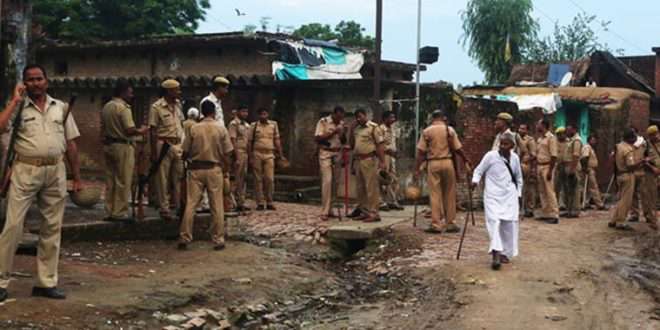 District Magistrate Ayanas Krishna Singh said police had been deployed on the spot to prevent any collision and rampage. According to reports, some people started praying inside the madrassa in Sarai Taryan a few months ago.
Later, a mosque was erected inside the madrassa and protesters and people from the Radosari community protested. Construction was halted following police intervention, and the sub-divisional magistrate in Rasath issued further orders saying that no such construction should be performed here.
On Wednesday morning, people from other communities who live in the vicinity informed police about rebuilding the mosque. Station House Officer (SHO) Ravinder Kumar Hayatnagar arrived at the police station and locked the place.
The people gathered at the mosque, they went to a nearby mosque, and from there a loud speaker announced that the police had stopped praying and threw out their holy books from the "new mosque".
Immediately afterwards, a large crowd gathered and women broke the mosque in the presence of the police. Sensing the danger, senior civil and district police officers arrived at the scene to prevent the situation from escalating further. Assigned.
Officials spoke to people in the community and assured them that all religious activities would be restored except for prayers.
District Magistrate Avinash Krishna Singh said that "the situation is in full control and construction has been stopped. RF has been designated as a precautionary measure."